D5534A JUNO-106 MC5534A WAVE GENERATOR IC REPLACEMENT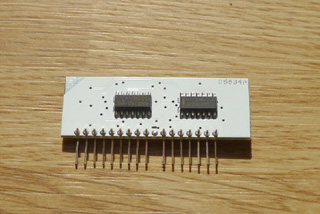 Introduction

This is a perfect clone of the MC5534A IC used in the Roland JUNO-106,HS-60,GR-700 and MKS-30.

The most common problem with a JUNO-106 is the dying of one or more 80017A chips in it. A perfect clone for that one can be found here. It is a hybrid chip: printed laser trimmed resistors and pcb tracks on a ceramic substrate, with smd components soldered on them and encapsulated in resin.
The wave generator chip,the MC5534A, is built with the same technology and although these are more reliable than the 80017A's, I got more and more requests for them recently. So, I decided to clone that one too.
It is built to the same extreme standard as my 80017A clone: Built to last and sounds exactly as the original one.

Summary

Better than the original.

Sounds exactly the same as the original.

I'm very serious about this and I'm well aware that I am the only one that claims this. This is not without a reason. No one is able to hear nor measure any difference with the original chips.
All integrated components are in mass-production by more than one manufacturer and have been available for decades. Thus have a

proven reliability

and are easy obtainable(in the very unlikely event of failure).
Used discretes are

close tolerance and high quality

Not dipped in resin.

(the black plastic goo in which the original ones and other clones are encapsulated). The original ones were dipped in it for protection due to the ultra thin pcb tracks and the printed resistors. My clones do not need this because the quality of the pcb's is of the highest that exists and has real resistors instead of thin carbon printed on plastic. The only reason I can come up with why the other (poor) clones are dipped in it, is because the manufacturers of these are afraid of somebody copying their designs. I won't like that either, but I prefer providing something that has possibility to last for ever. I want all components to be accessible for replacement. (if ever necessary in the far future) As said before: they are mass products and easy to obtain.

Very high quality PCB:

Still uses HASL SnPb finish and SnPb soldering. Which is still the most reliable assembly method. RoHS compliance is not required here as this is a part to repair old non-RoHS equipment.

PCB pads are optimized for liquid solder

.

All tested prior to shipping:

I built a small bed-of-needle tester which does both an electrical test (To see if it doesn't load the power supply and input signals too much), a functional test (to check if everything works as it should work) and a parametrical test (to see if everything is within defined tolerance level).

5 years warranty:

This warranty is for ones that die with no apparent reason. Not for ones that you destroy by driving a truck over it, feeding it to the dog,...you get my point here
Installation

Can not be more straightforward: Just remove the bad one and replace it with my clone.

No adjustment is needed.



Some tips for servicing can be read here.
If you are unable to do so yourself: Contact a Roland service center. They will be happy to do it for you.

Buy

You can buy them from me directly.
I sell them at the price of 25 EUR each + 10 EUR shipping cost (international registered mail, worldwide with proof of shipment)
Shipping costs stay the same, no matter where and how many.

I also have a package price for 6 AR80017A's and 3 D5534A's: 280 EUR
I have discounts for large quantities and can provide invoices (contact me before buying), full customs docs,... for registered companies.

Shipping usually within 14 days after payment.
Shipping only to the shipping address provided with the payment. No exceptions on this.

Accepted methods of payment:

Paypal (Preffered, use buttons below)
Bank transfer (IBAN-BIC)
Money Transfer
Cash
| | |
| --- | --- |
| For D5534A's: use this button | |
| For the full set of 6 AR80017A's and 3 D5534A's (package price): use this button | |

For other payment methods and larger quantities: email me.

Do not mail for order status/tracking/whatever within 14 days after payment (or the date your E-check has cleared). All these emails are ignored. You will get a email notification to the email address you used for paypal when your package was shipped.