80017A VCF VCA JUNO-106 VOICE CHIP FILTER IC CLONE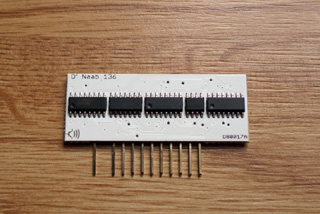 THIS VERSION IS NOW OBSOLETE
CLICK HERE FOR THE NEW VERSION
Introduction

This is a perfect clone of A1QH80017A IC better known as 80017A used in the Roland JUNO-106,HS-60,GR-700 and MKS-30.

The previous version, D80017, has been in production since May 2006 and is in use by people and service centers all over the world now. During it's lifespan it saw no less than 7 revisions (about a new verion every 4 months). Since the first version it sounded identically to the original chips. No one is able to hear a difference. But every time I saw something that could be improved, I changed it until it reached something close to perfection.
Due to the fact that the PCB library I designed to cope with the problems of lead-free solder alloys is also very beneficial for lead-solder joints, I decided to also use it for this voice chip clone.
For this I had to redraw the whole thing from scratch and thus I took the time to evaluate all previous versions and their measurement data from the test procedure I did on each one. This because the type of parts used remained almost the same throughout all versions, but I did switch between manufacturers from time to time. Although all of them were within specifications, some are a lot closer on target than others. Now I order each part from the manufacturer who's test results were the most uniform for that part.
The previous version had one weak spot: The output of the VCA had no short circuit protection. This was not an issue during operation, but when doing the adjustment procedure you could destroy them by shorting 2 testpoints. And as we all know: A slip of the probe happens even to the most experienced from time to time. For this new version the output is fully protected.

Summary

Better than the original.

Sounds exactly the same as the original.

I'm very serious about this and I'm well aware that I am the only one that claims this. This is not without a reason. No one is able to hear nor measure any difference with the original chips.

Functions exactly the same as the original.

No nonsense, just do what is said in the Roland JUNO-106 service manual.

Designed and built to the highest standard

(take a look at the high-res images below to see for yourself).
All integrated components are in mass-production by more than one manufacturer and have been available for at least a decade. Thus have a

proven reliability

and are easy obtainable(in the very unlikely event of failure).
Used discretes are

close tolerance and high quality

Not dipped in resin.

(the black plastic goo in which the original ones and other clones are encapsulated). The original ones were dipped in it for protection due to the ultra thin pcb tracks and the printed resistors. My clones do not need this because the quality of the pcb's is of the highest that exists and has real resistors instead of thin carbon printed on plastic. The only reason I can come up with why the other (poor) clones are dipped in it, is because the manufacturers of these are afraid of somebody copying their designs. I won't like that either, but I prefer providing something that has possibility to last for ever. I want all components to be accessible for replacement. (if ever necessary in the far future) As said before: they are mass products and easy to obtain.

Very high quality PCB:

Still uses HASL SnPb finish and SnPb soldering. Which is still the most reliable assembly method. RoHS compliance is not required here as this is a part to repair old non-RoHS equipment.

PCB pads are optimized for liquid solder

.

All tested prior to shipping:

I built a small bed-of-needle tester which does both an electrical test (To see if it doesn't load the power supply and input signals too much), a functional test (to check if everything works as it should work) and a parametrical test (to see if everything is within defined tolerance level). Pictures of this test are below.

5 years limited warranty:

I know there is some discussion going on on some mailing lists and synthesizer fora on the subject if my clones will last longer than the original ones. I'm proud of the quality I make and I'm certain they will last a long time. So 5 years warranty. This warranty is for ones that die with no apparent reason. Not for ones that you blow up driving a truck over it, feeding it to the dog,...you get my point here
Do not take my word for it. Do some internet searching and read what other people have to tell about these clones.
Links

Installation



Just do as is told in the ROLAND JUNO-106 SERVICE MANUAL

. Nothing less, nothing more.

The JUNO-106 service manual can be downloaded here: JUNO-106 service manual
Although it is straightforward and perfectly described in the juno-106 service manual, this requires electronics knowledge and the proper tools: digital multimeter, oscilloscope and frequency counter (frequency adjustment can also be done with a musical instrument tuner or soundcard + frequency measurement program).
Do not believe people who are selling originals or clones who say this is just a remove-replace-play operation. They are lying. Even if you do replace it with an original chip, this adjustment procedure is necessary. Without doing so it will sound acceptable, but not perfect.
Tolerance of these clones is very tight. Only little adjustment should be done. All trimpots should be about center position.
Some tips for servicing can be read here.
If you are unable to do so yourself:
Contact a Roland service center. They will be happy to do it for you.
CIMPLE Solutions in the UK have been repairing synths since the 80's, and know the 106's inside out and back to front! They usually stock my clones
Buy
THIS VERSION IS NOW OBSOLETE
CLICK HERE FOR THE NEW VERSION




From now on I charge 10EUR for every question that people ask me by mail that is already answered on this page. I am tired of answering the same questions over and over and over again. This keeps me from doing electronics.

Pictures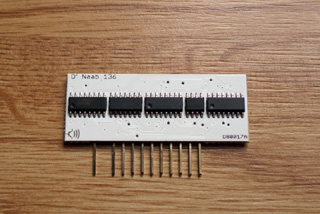 D80017A module. Click here for a high-res image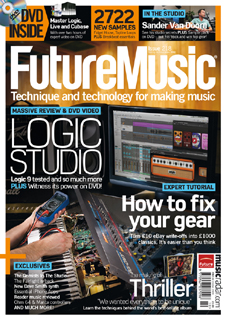 Cover of the Future Music magazine issue which features this clone. Clickhere for a high-res image

More pictures and extra info can be found on the page of the previous version: D80017